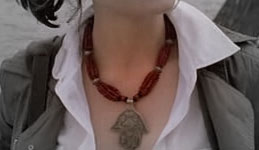 While rewatching Bones, I was reminded of how much I love Temperance Brennan's jewelry. Since I first watched it, I have noticed that parts of my own collection tend to go in a similar direction.
From the necklaces, which may be big and clunky or simpler silver, to an array of earrings – the jewelry gives a special touch. Her outfits are usually very classic lines and styles, so the more distinct jewelry gives it personality
The jewelry tend to have an ethnic slant, either tribal or celtic.
The big clunky necklaces don't work on me, in my opinion, but I do love some dangly ear things.