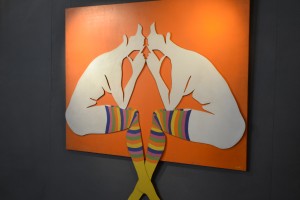 The Royal Palace in Brussels is open to the public, free of charge, during the summer until September. This was one of the things that weren't mentioned on the list of things to do in Brussels – but I'm really glad we did.
We were actually looking for how to get into the underground parts of the city when we realized that the Royal palace was open, and free of charge.
They had put together an exhibit of "Faces" when we were there the first weekend of September, and there was also a science exhibit for kids.
Not that these things were strictly necessary – the rooms themselves are more than impressive, and it was cool to go from ball room to more personal-feeling sitting rooms and look around. (Yet, since the royals aren't living there full time, I did not get the same feeling that I got at Alnwick Castle – that I was walking into someone's home without permission.)
If you go to Brussels during the summer – check out the Palace. Well worth it, in my opinion, especially since it is free. Afterwards, check out the underground parts of the city next to it.