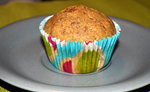 These muffins were a lot less sweet than I thought they would be, if that makes any sense. The scent of cinnamon and bananas might have tricked me into thinking it would be sweeter. It definitely feels healthier than some of the other banana bran muffins recipes I've seen.
There was actually a point where I tasted the batter, and had my doubts. It had a bitter aftertaste that did not work for me.
So, I was slightly anxious as they were coming out of the oven. What if they weren't good?
I ended up gobbling one down, almost straight away. It was yummy.
Ingredient-wise, it does kind of remind me of the banana bread I posted in April, though that was sweeter and had chocolate.
Ingredients

200 g all purpose flour

2 teaspoons baking powder

1/2 tsp salt

1/2 teaspoon cinnamon

60 g bran flakes (I ended up using Kellogg's All Bran flakes)

2.3 dl  low-fat milk

2 medium ripe bananas, mashed

1 egg

2.5 tbsp butter, softened (approx.)

3 tbsp light brown sugar

How-to

1. Preheat the oven to 190 degrees celcius.

2. Line a pan with 12 cupcake/muffin paper liners. If you have a pan, use that.

3. Combine flour, cinnamon, baking powder and salt in one large bowl.

4. In a second, smaller, bowl, combine the bran flakes, the milk and the mashed bananas. (I ended up smashing the bran flakes before adding the milk and the bananas, so they wouldn't be so large).

5. In a third bowl, mix together the egg, the butter and the brown sugar.

6. Add the banana/milk/branflakes to the brown sugar mixture, and use a mixer to combine until it is fairly smooth.

7. Add this to the flour bowl. Stir well.

8. Divide the mixture between the liners. I measured it out with a tablespoon to ensure that there was about the same amount of dough in each liner. They don't rise as much as cupcakes, so I filled more of the liner than I would with cupcake batter.

9. Bake for about 18-20 minutes. Let cool a bit before removing from the pan if you used one.

Adapted from Ice cream before dinner.