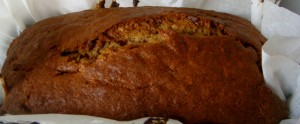 We had some bananas that were turning brown, and rather than cut them up and freeze them for smoothies – we decided to make banana cake.
When I was growing up, we had this neighbour who had the most amazing banana cake. It was soft, moist and incredibly tasty. This isn't her recipe, but it comes pretty darn close.
This takes some time to make, but mostly that is oven or cool down time. Mixing it together takes about 10-15 minutes.
It serves 10, according to the recipe, but it depends on the size of the slices.
Banana cake.
Adapted from Bagværk by Lesley Mackley
Ingredients

125 g softened butter/margarine
175 g regular flour
1 tsp baking soda
a pinch of salt
1 tsp cinnamon
175 g sugar
2 big, mature bananas
2 eggs
5 tbsp of boiling water
175 g dark chocolate – roughly chopped. (I only had about 75 g. chocolate, so I added 100 g peanut butter instead. It worked fairly well.)
1) Preheat the oven to 160 degrees celsius
2) Cover a 1 liter mold with baking paper, and/or butter the form.
3) Sift flour, natron, salt and cinnamon in a bowl, and set aside.
4) Take another bowl, add the butter/margarine and sugar and mix until light and slightly airy.
5) Add the bananas and eggs to the butter/sugar mixture, and mix them together. It may look like the whole thing is curdling, but that is okay.
6) Alternate adding the flour mixture and the hot water to the rest of the dough, until everything is mixed well in.
7) Add the chocolate (and/or peanut butter, if you're like me and didn't have enough chocolate…)
8) Pour the dough into the mold, and ensure you have a smooth-ish surface.
9) Bake the cake for about 1 hour and 10 minutes, or until it has risen and feels firm.
10) Let it cool in the mold for about 20-30 minutes, before taking it out of the mold, and cooling it a bit more before serving.
The recipe calls for it to be served cold, with whipped cream, but slightly warm with ice cream also works splendidly.
Yum!