Chutneys are becoming one of my favorite things to make – essentially it is just a matter of putting the ingredients into a saucepan and letting them bubble together for a long period. The downside is that the chutneys need to stand for a while to mature, so no instant gratification.
The apple tree in my grandmother's garden is notorious for producing small cooking apples that are not good for much beyond apple cake.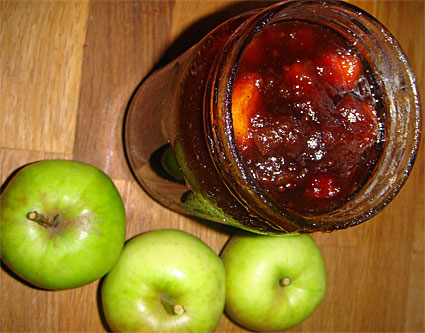 I decided to try my hand at putting a couple of them into a chutney once I found this recipe.
As always, there were modifications as to what were in my pantry, and I'm not a huge fan of sultanas – so I left those out entirely. I also cut down on the amount of onions due to what I had. I reduced the sugar slightly because of it.
Ingredients

1.5 k of apples (I used a mix of bitter apples from the tree and pink lady apples)
350 g of onions
500 g Demerara sugar
500ml of white wine vinegar
Zest and juice of two lemons
1 chili
1 tsp ground ginger
1 tsp ground allspice
1 tsp of cinnamon
Pinch of ground cloves
½ tsp of sea salt
8 peppercorns
1 tbsp of mustard seed

Instructions
1. Clean the apples, peel them, take away the core and chop them up.
2. Clean the onions and chop them as small as possible.
3. Put all the ingredients in a saucepan – ideally the size of the saucepan should be more than 3.5 litres (mine was almost overflowing in the beginning.)
4. Bring slowly to boil, make sure the sugar dissolves.
5. Let it simmer until the mix has thickened. Stir from time to time. It should take at least 4 hours.
6. Take the chili out if you prefer that.
7. Pour the mix into warm jars.
8. When it has cooled, put the lid on, and store them in a cool dry place, for at least a month.
Recipe used, and adapted slightly from The Small Cottage Holder