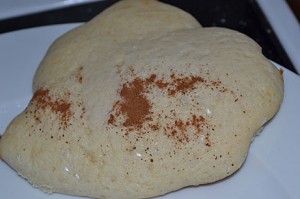 In Norwegian these have a really un-PC name, Jødekaker (directly translated it means Jew cakes), but the name comes from the alleged fact that Sephardic jews brought the cookies with them when they immigrated to Norway. Anyone of Jewish descent know anything that resembles it?
It's fairly common in certain parts of Norway, whereas in other parts, it is relatively unknown. I've grown up with this. My co-workers in another part of Norway looked at me in horror last year when I listed this as one of the cookies I would be making for Christmas because of the name.
It is probably the easiest cookie I've made for Christmas this year.
Ingredients
600 g all-purpose flour
1 1/2 tsp hartshorn (can probably be replaced with baking soda if you can't find hartshorn)
125 g butter (melt and cool down)
500 g sugar
500 ml buttermilk
Extra sugar and cinnamon for decoration.
How-to
1. Turn stove on at 200 degrees celcius
2. Mix everything but the extra sugar and cinnamon together in a bowl.
3. Use a tablespoon to set on a baking tray covered with parchment paper. They will probably increase in size so don't set them too close.
4. Drizzle with sugar and cinnamon.
5. Bake for 10 minutes. They should be light and fluffy.