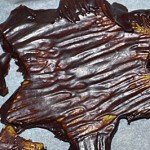 My sister is crazy for peppermint and chocolate flavored things, so it seemed like a good idea to make this recipe that I found in the December 2011 copy of BBC Good Food and to bring with me when I come home for Christmas.
(Unless she comes to visit before that and empty out my stash… I wouldn't put it past her.)
The picture doesn't look very elegant, due to my lack of chocolate painting skills, but essentially taste-wise, we're talking After Eights. And it is really super-easy.
Ingredients 
500 g icing sugar, sifted.
4-6 tbsp condensed, unsweetened milk
1/2 tsp peppermint oil or peppermint extract (depending on what you have, and how much peppermint flavor you want)
Green food coloring (Optional)
1) Add the icing sugar to a bowl. Stir in the condensed milk gradually – you want the end result to be a firm dough, not too dry and not too sticky. I had to add more icing sugar to mine to get it beyond the liquid stage – consider how much condensed milk you need before adding it all. Add the peppermint oil. Then add the food coloring, if using.
2) Sprinkle a bit of icing sugar on a clean surface, and knead the dough together on the icing sugar. It should be fairly smooth.
3) Add more icing sugar onto the surface (the dough shouldn't stick) and roll the dough out with a rolling pin. It should get to about 0.5 cm in thickness (but depending on preference).
4) Stamp out stars with star-shaped cookie cutters. Put onto parchment paper.
5) Let sit until next day when they've dried out. You can then dip them in or paint them with melted chocolate to give them a chocolate cover, or just pack away in boxes as they are.