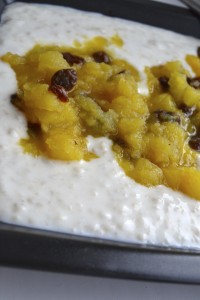 A new year, new food promises. This porridge from BBC Good Food is incredibly creamy – it actually feels a bit like rice porridge, but it is oats- and the compote on top brings it all together.
The recipe gives two servings, and two big servings at that. From experience: I put one in the fridge, and plan to have it for breakfast tomorrow. That works perfectly – and it still will taste good.
I ended up fresh pressing oranges for the juice. If I'm going to start eating fresh, I wanted to avoid the preservatives in the store-bought orange juice. It takes about two oranges to get to the 150 ml juice needed in the recipe.
If you want to fancy it up even more, adding cinnamon would be a nice touch.