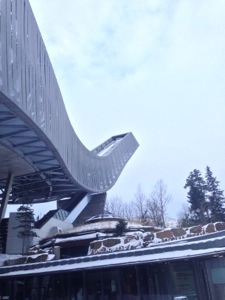 On Saturday, when the majority of people on the Frognerseteren metro-line were heading up to ski, I was heading up for the Ski Museum.
If I had been a bit smarter about this – I would have realized that the Ski Museum is really a better place to visit if a) you have your own transportation or b) in the summertime.
Walking uphill in the snow and freezing temperature from the metro stop to the Holmenkollen ski jump, and the Ski Museum which lie beneath it – a less than pleasant experience.
The return walk to the metro stop was actually fun, and you get an amazing view of Oslo from the top.
But back to the actual museum.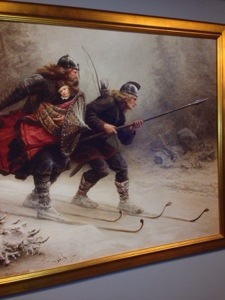 It is dedicated to the history of skiing.
It includes skis. Ski producers. I  can well understand the kid who kept tugging at his parents – "can we move on?" because although the exhibitions might be interesting to adults who can read, old skis can't be much fun to look at.
I couldn't get the lift to the top of the ski jump tower to work, but it might have been worth the visit on its own merit even without the museum.
And then there were the royal connections.
King Haakon's ski coat and skis. Queen Maud's skis.
From the first skis of King Olav to the outfit he wore while attending the Olympic games in Sarajevo. (I was slightly reminded of the Olympic Museum in Lausanne.)
Some of the trophies Crown Prince Olav won while ski jumping.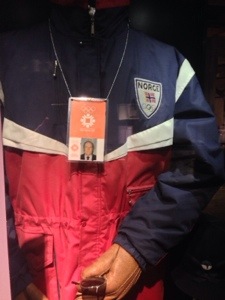 They also included the metro bench he sat on when he insisted on paying for his own ticket during the oil crisis in the 70s.
Overall, I felt like it was an interesting visit, but I wish I had done it on a different day. Also, I got a GroupOn deal on of it, so I paid significantly less  than the original ticket price.
I don't think it would have been worth the full price.