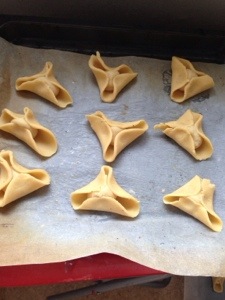 Last summer, as we were traveling through the islands in the south of Denmark, we stopped by a bakery and picked up assorted baked goods. The Napoleon's hat, or Napoleonshatte in Danish, was one of them.
I used this recipe from DR.dk as the foundation when I made mine. It was much easier to make than what I expected. If you can buy kransekage/almond cake dough pre-made, it makes even easier. Definitely buy the marzipan. (Or take a look here for a home made version.)
Ingredients
Sweet dough
300 g regular flour
100 g powdered sugar
150 g butter (room temperature)
1 egg
Marzipan dough (Almond cake dough)
250 g raw marzipan (the higher almond content, the better it will taste.)
100 g sugar
1 egg white
Other
About 250 g dark chocolate. The higher cocoa content the better.
You can also add nougat and other elements to the filling.
 How to…
1. Mix the sugar and the eggwhite together. Let it stand for about 1 hour to disolve the sugar a bit.
2. Whizz all the ingredients for the sweet dough together in the food processor. (Or mix together in a mixer.) Combine until it becomes a dough. (You may need to use your hands on it to ensure it comes properly together).
3. Cool the dough for about 1/2 hours
4. Add the sugar/egg white mix to the marzipan and combine well.
5. Turn the oven on 200 degrees celsius.
6. Roll the dough thinly (3-4 mm) and cut out circles. (The original recipe states 8 cm in diameter, which I did. If I were to do it again, I think I would have made them a bit smaller and more petit four-like.)
7. Add the circles of dough to a baking sheet covered with waxed parchment paper. (If using nougat or other filling elements, put a small dollop in the middle of  the circles.
8. Roll the marzipan mixture into small balls. (Mid-sized marbles in size) If the marzipan mixture is sticky, add a bit of water to your hands, and it won't stick.
9. Add the balls to the middle of the circles of dough.
10. Fold the dough up around the marzipan balls, in three places. Press the three sides into the ball so it sticks. The base should be a triangle.
11. Bake for  8-10 minutes, until golden. (If you make them smaller, adjust the timing accordingly.)
12. Take them out of the oven and cool completely.
13. Warm up the chocolate in a bain-marie.
14. Dip the bottom of the cookies in the chocolate and let cool until the chocolate hardens.
15. Eat. They can keep in a air-tight container in the freezer for 3 weeks, or in the refrigerator for 3 days.