The past couple of years I have failed at Nanowrimo. (National Novel Writing Month.) Like many others.
Pure and simple – I either –
didn't have the time to sit down every day and get in the 1667 words on average that is required to reach 50,000 words.
Didn't get a good enough start the first couple of days so that missing a day here or there later didn't matter.
or  had a plot that made me want to bash my heroine's head in by the end of the first week.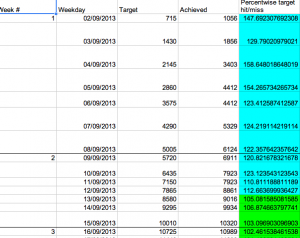 I have really been wanting to sit down and write, though. I miss doing that. Miss putting words to the page and letting the story flow.
Back in the beginning of September I read the book The 12 week year. The more I read, the more I thought that I could apply what I was reading to my writing.
My goal at the onset of the 12 weeks was to have 60,000 words by the end of it.
I made a GoogleDrive spreadsheet to track my progress. I also have small columns in the spreadsheet to:
a) set goals for the week (per the 12 week year, you set goals for each week in the beginning of the week).
b) leave comments for myself for why things are/aren't progressing as planned. (Cutting off my thumb/getting tetanus shot is a valid excuse, right?)
and
c) know how much I have to write every Sunday to get back up to target.
As per the 12 week year, I had also blocked a 3 hour chunk in my calendar one afternoon/evening midweek for writing.
It went rather well for a while, and then I suddenly stopped in the middle of October. I can't remember why – maybe because the weather was so nice for October, that I felt like it was a bad idea to sit inside, maybe work became very busy.
And then came Nanowrimo again. I wasn't going to do it this year, but since the 12 weeks had somehow stopped half way in – at week 6, I figured I could give it a go.
My problem cropped up the first day, when I just did a 100 words more than the general average Nano day should be like. It meant that the next day, when I really didn't have much time to do much writing at all, put me behind. I tried to catch up on day three… but only got up to where my Day 2 word count should have been at. Nano works very well if you have the time to sit down and write, write, write for a month.
The 12 week plan – I set smaller daily goals, so if I fell behind one day  it didn't take as long to catch up the next day. I think that was the reason I kept up with it for six weeks.
I'm not sure I have a solid conclusion to draw from this – November isn't over yet. Both projects are theoretically still running.  I doubt either of them will be finished by the end of the month, though.