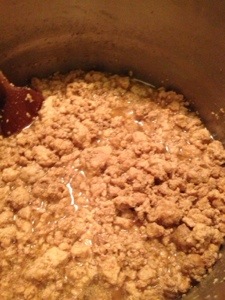 A lot of the time, traditional Norwegian food does not look particularly appetizing. In many cases, it looks bland and boring.
And other times, it sort of looks like a brain exploded. Which is why, if you're throwing a Halloween bash or a gory themed party, this dish is perfect for the visual aspect.
Gomme/Gome is one of those dishes that have small variations where in Norway you might be.
We tried replicating my grandmother's version, and since she is from the South-Western part of Norway – we used this recipe as a base.
Gomme is a sweet dish that is meant to be used as dessert, as spread on flatbread/bread or just to be eaten as candied snack.
It's really about having the time to do it. There is not a lot of active work, except for stirring the pot every now and then, but you have to be present and ensure that it doesn't burn.
Ingredients.
4 liter full-fat milk
1 liter buttermilk
8 eggs
1 cinnamon stick
500 g brown sugar
To thicken:
1-2 eggs
1-2 tbsp flour
How to…
1. Add the cinnamon stick and 4 liters of milk to a large pot, and bring to boil.
2. Let the milk boil for 3-4 hours, while stirring from time to time so that it doesn't burn in the bottom of the pot.
3. Remove the cinnamon stick.
4. Whisk together the buttermilk and the 8 eggs. It will look slightly gross when you've first combined them.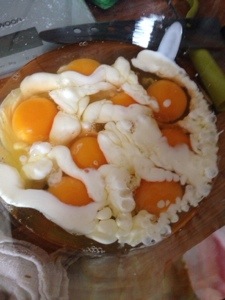 5. Pour this mixture gently into the boiling milk. From this point – do not stir the pot, but gently shake it from time to time. The point here is to "blow" the milk up. It will look like curdled eggs.
6. Add the brown sugar. Still no stirring. Just shake the pot.
7. Let it boil for 45 min-1 hour, depending on texture.
8. To thicken a bit, add 1-2 eggs whisked together with 1-2 tbsp flour to the mix.
9. Let it boil for 15 more minutes.
10. Set aside to cool.
11. Eat.
It can keep for up to 3 weeks in the refrigerator.  It can also be frozen. Mine got eaten long before I contemplated freezing it.