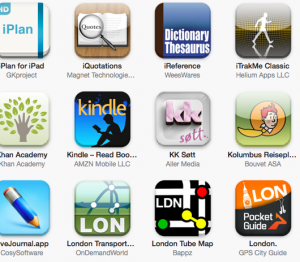 I was updating my iPad, when I realized that I am constantly updating a lot of apps. The majority of which I never use, and which are rather pointless to keep permanently. I could just delete them, and then, should I need them  – it is possible to download  again.
Especially since downloading an app twice takes less time than continuing to update it again and again.
Case in point – if I am going somewhere, I like to download guides for the place I am going. When I was in Brussels last year, I downloaded a Brussels guide app.
Since I have no plans to go to Brussels again soon, it really makes no sense to keep updating the app. If I do go to Brussels, I can just download the app again, or I can find another one.
Similar with the three different London apps I have.
And, apart from that – there is all the apps I downloaded because they sounded nifty. But I haven't used them. I've had iPhone/iPad for a while, and if I haven't used the app, odds are that I am not going to do so either.
Goodbye Khan Academy app. You sounded really good on paper, but I have yet to open you.
I have realized that I can't just keep adding apps that I never use, and October seems a really good time to start.
Anyone else do similar purges?