Last week I found this image on imgur. 30-day AB challenge.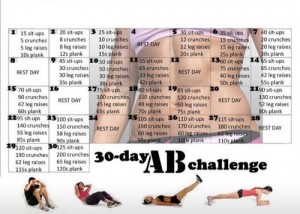 I thought it sounded interesting – I needed to get some work in on my core muscles and I can definitely do something for 30 days. (Well, as long as it does not include jumping jacks. My knees did not enjoy Jillian Michaels' 30 day shred.) Currently I'm on day 8 – rest day – and I have to say that the first week have gone surprisingly well.
The second day was hell. It turns out that I am really much more untrained in my core than I thought I was. But the rest have gone okay so far. Going from 35 sit-ups to 40 was a bit of stretch, though. It will be interesting to see how 45 will feel tomorrow.
I think it has gone well because I can do this at home. I don't have to be at the gym to do it, which takes away a bit of the procrastination factor around it. But I also think that, for the first week, it is not a huge involvement in time needed either. It was less than 5 minutes each day, so not finding the time wasn't an excuse.
I want to keep up with this for the remaining days.