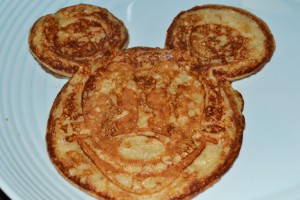 Norwegian-style waffles are softer than the Belgian ones. There are about as many different recipes as there are households, I'd think. They're usually heart-shaped, but I couldn't resist using my sister's Mickey Mouse waffle-iron.
These ones came about when I was cleaning up my diet by doing  low-GI for a while after Christmas, but still wanted a treat to serve guests. I've used the basic recipe from Norwegian site Det Søte Liv, but tried to adapt a bit to the fact that I was avoiding regular white sugar.
Ingredients:

400 ml oatmeal/rolled oats
300 ml buttermilk
300 ml milk
2 eggs
3 tbsp melted butter
0.5 tbsp crystalline fructose, or other sweetener.
0.5 ts+ baking soda
2 tbsp barley flour

How to:
1. Put the oats in a bowl with the milk and the buttermilk. Leave it for about an hour.
2. Gently whisk the eggs together.
3. Add the eggs, the melted butter and the crystalline fructose to the oats/milk/buttermilk mixture.
4. Add the baking soda and barley flour and mix well.
5. Let the dough stand for 15 minutes before baking.
6. Bake in a waffle iron until golden. (You might consider using a bit of butter or cooking spray on the waffle iron depending on its non-stick capabilities.)
7. Serve with jam, sour cream, butter or cheese.