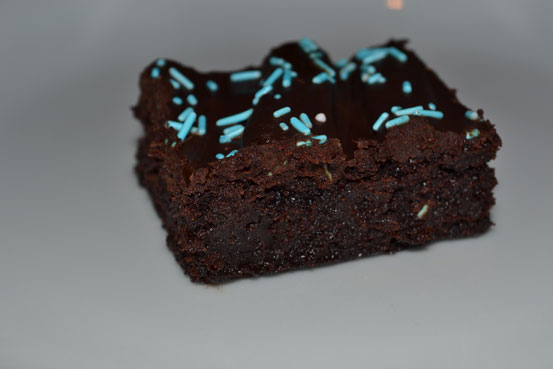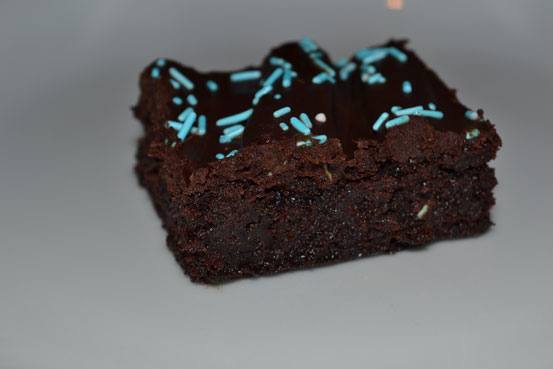 When I posted the name of this recipe on Facebook, one of my Dutch friends said: "We call this kind of thing something completely different in the Netherlands."
The recipe comes from Macaroni & Cheesecake, They're perfectly fudgey and chocolatey. And just right for freezing for later as well.
Ingredients
Brownies:
200 g granulated sugar
160 g brown sugar
180 g butter, melted
2 tablespoons water
2 large eggs
2 teaspoons vanilla extract
175 g all-purpose flour
110 g unsweetened cocoa
1/2 teaspoon baking powder
1/4 teaspoon salt
Ganache:
125 ml heavy cream
200 g bittersweet or semi sweet chocolate
pinch of sea salt
colorful candies or sprinkles, for decorating
How to
1. Stir together melted butter, water, sugar & brown sugar until well combined.
2. Add the eggs and the vanilla extract and stir until fully incorporated.
3. Sift in the dry ingredients. Mix well.
4.  Preheat oven to 175 degrees C.
5. Line a 22 x 33 cm baking pan with parchment paper
6. Pour the batter into the baking pan and try to spread it evenly.
7. Bake for approximately 20 minutes until the brownies have started to set in the middle.
8. Let the brownies cool.
9. While the brownies are cooling, heat up the cream in a small saucepan over medium heat to a simmer. It should not boil.
10. Place the chocolates in a bowl and pour the cream over the chocolate. Sprinkle with salt.
11. Gently stir the cream with a spoon until all the chocolate has melted and incorporated in the cream. Let it cool a bit.
12. When the brownies have mostly cooled, pour the chocolate ganache over them and try to spread it evenly.
13. Sprinkle with sprinkles.
14. Cool completely in the refrigerator.
15. Cut into squares before serving.