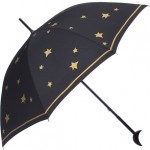 Summer hasn't happened much in my part of Norway. As usual, it has been wet and fairly cold. And the umbrellas have been out in full force already.
But for autumn, I like the design of this umbrella from Stormy Weather. It looks like fun, and a bit different than all the umbrellas that I already have – one in each bag, one in the car, and one at the office… Yes, it rains a lot here.
I probably won't get this exact one, but it helps to have an idea in my head as I look around in my local shops. (And, with the windy weather we have here, $40 is a bit too much to spend on an umbrella… Sadly.