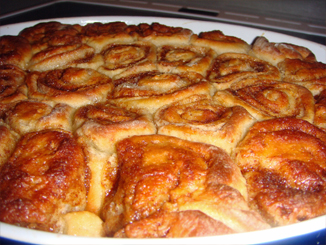 I got this from Beantown Baker who remade a recipe from Pioneer Woman. I've adapted the recipe to metrics, and modified a bit as to what works for me.
However, I do recommend taking a look at the other two to see what may or may work for you.
I've made it twice, and the last time I changed out a bit of the flour for wholemeal, which worked rather well.
Personally, I like a bit less cinnamon than in the original recipe, so I've cut down on that.
All I had in the fridge was low-fat milk, so I've substituted that for the original whole milk.
Ingredients:
Dough:
4.8 dl low-fat milk
1.1 dl vegetable oil
125 g sugar
2 1/4 tsp dry yeast
575 g flour
75 g flour
1/2 tsp baking powder
1/2 tsp baking soda
1/2 tbsp salt

Filling:
About 100g melted butter (depending on how large you roll the dough)
115 g sugar
60 g brown sugar
30 g cinnamon (more if you're really into cinnamon)

Directions:
1. Mix milk, vegetable oil and sugar in a pot on the stove.
2. Warm to 65 degrees Celsius.
3. Let cool until lukewarm
4. Sprinkle in yeast and let sit.
5. Then add the 575 g flour, and stir the mixture together.
6. Cover the pot with the lid and let sit for one hour.
7. Add the 75 g flour, baking powder, baking soda, and salt.
8. Stir mixture together.
9. Preheat oven to 190 degrees Celsius
10. Divide the dough in half.
11. Sprinkle surface generously with flour, roll the dough thin and form into a rectangle.
12. Drizzle melted butter over dough.
13. Sprinkle with the brown sugar, sugar and cinnamon.
14. Roll the dough toward you.
15. Punch the seam in, to seal it.
16. Grease foil cake or pie pans.
17. Cut rolls 2.5 cm thick and put in greased pans. (I am using one large pan)
18. Repeat with other half of dough.
19. Cover the rolls and let sit for 30 minutes.
20. Bake 15 to 18 minutes.

Then drizzle with your wanted frosting.