Never mind that I'm nearly three months late in posting this. I was hit with something just before Christmas, and was tapped for energy almost all through January.
On New Year's Eve, though, I managed to find enough energy to be creative in the kitchen. Together with Sister S, we scouted cook book, blogs and recipes online to find the perfect meal. I'm glad to say we did.
We faffled back and forth on what we would make, but ended up with Sweet & Sour Chicken, with Jasmine rice and vegetables. The recipe we found at the Brown Eyed Baker's.
We made our own adaption:
Sweet and Sour Chicken
Serves: 3-4 (or two, if you want leftovers for the next day… which you do.)

For the Chicken:
4 boneless, skinless chicken breasts.
2.3 dl cornstarch
3 eggs, slightly beaten
vegetable oil

For the Sauce:

6 dl sugar
12 tablespoons ketchup
3.5 dl vinegar (we used white wine vinegar, but rice is also on the list of preferred.)
3 tablespoon soy sauce
3 teaspoon garlic powder

(We doubled the original sauce recipe).

1. Preheat oven to 190 degrees Celsius.

2. Cut chicken breasts into small-ish chunks.

3. Season chicken with salt and pepper.

4. Have a bowl of cornstarch and a bowl of the mixed egg.

5. Put the chicken pieces in cornstarch and then coat with the egg.

6. Heat the oil in a large frying pan, over medium-high heat and brown the chicken, in batches, turning it so that all sides of the pieces are browned.

7. Place the chicken in a single layer in a baking dish. The dish should be large enough to accommodate both chicken and sauce.

5. Whisk together the sauce ingredients in a bowl and pour evenly over the chicken. Make sure the chicken is well coated in the sauce, before putting it into the oven.

6. Bake for 1 hour, turning the chicken every 15 minutes.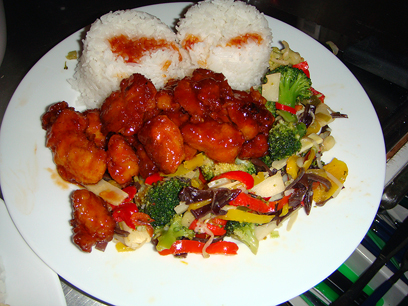 This is a seriously good recipe. It tastes much better than the Chinese takeaway
For dessert we made chocolate fondue and butterscotch fondue, in which we dipped slices of fruit. The butterscotch fondue was quite good for dipping grapes and apples. We felt that the bananas went best in the chocolate fondue.
Butterscotch fondue
Butterscotch is one of those American flavours that I've always wondered what tasted like. I've come to understand that it was somewhat like caramel, only not.
This recipe tasted very familiar to us, and after a while we got why – butterscotch is very similar to a traditional type of Norwegian caramels, made from butter. Smørbukk.
It's one of those candies that always seemed to end up in the Christmas tree, and always stayed there for a long time, because it wasn't anybody's favourite.
This was quite good, though, and we actually preferred it over the chocolate fondue.
Ingredients

110 g packed brown sugar
80 ml light syrup
60 ml heavy whipping cream
30 g butter or margarine
3 ml vanilla extract

1. Stir together the brown sugar, the syrup, the cream and the butter in a saucepan.
2. Bring to boil. Stir occasionally so it doesn't stick.
3. Bring down in temperature and let cook for 5-10 minutes (depending on how firm you want the fondue).
4. Stir in the vanilla.
5. Transfer to a fondue pot to keep wam – although it worked fine without one.