Or, lemon mousse in English, of which there seems to be oodles of recipes on the internet.
I think the first time I really made this dessert, was back in home ec. in seventh grade. I remember it, because the other dish my group had to prepare, boiled fish of some sort, ended up being inedible, and so it was really pure luck that the lemon mousse turned out splendidly.
This time around, many things seemed to go wrong, and it did not turn out perfectly in consistency – the mousse refused to set properly. But as it tasted absolutely delicious, and tart, I'm still sharing 🙂
Lemon Mousse, or Sitronfromasj, from Gyldendals Store Kokebok,
Published 1981
Recipe should yield 4-6 portions, depending on size. It says that it should take 2-3 hours to set after making.
Ingredients:

2 eggs, split into yolks and whites.

2 tbsp sugar (granulated)

the juice and zest of half a lemon

4 sheets gelatin, loosened in water.

3 dl whipping cream.
Instructions
Prepare all the ingredients – ie. zest the lemon and juice it, separate yolks and whites, and so on.
Whisk the egg yolks and the sugar together.
Add the lemon juice and the lemon zest to the egg/sugar mixture, and whisk a bit.
Make sure to squeeze the water out of the gelatin sheets, and put them in a pot on low heat on the stove to melt them.
Pour the gelatin into the egg/sugar/lemon mixture, while stirring gently.
Let it set for a bit.
If you're making the mousse with whipping cream (see below for alternative ingredients if you don't), whip the cream, then add it to the lemon mousse mixture.
Whisk the egg whites until they're firm and white. (And you can turn the bowl upside down without anything falling out. NOTE: Don't turn it on its head until you've been whisking for a while, and when you do, do it carefully.)
Mix the egg whites carefully into the mousse.
Pour the mousse into a serving bowl or individual serving bowls.
Put it in a cold place to let it set.
Notes:
We had a lot of lemons and limes, so I ended up using the juice from a whole lemon, plus a lime, which I suspect (in addition to trouble with the gelatin) was why the mousse did not set. It made the recipe wonderfully tart, though, as I did not add any additional sugar to compensate for the additional lime juice.
Despite it not setting, it did get somewhat mousse-like qualities, and it tasted fantastic. We couldn't have more than a couple of spoonfuls, as we were full from dinner. The rest was eaten the next day, by the grandmother, an experienced lemon mousse maker, who thought it tasted wonderful.
Even though raw eggs are deemed safe to use in Norway, due to testing and procedures, because the nature of the internet means things can be read here and made everywhere, I thought it might be good with an additional note. Obviously there is a salmonella risk here that a) was not apparent in 1981 when the cookbook was published, but b) is also rather slim according to statistics I've seen. But follow the guidance of your country's health/food departments, however also be sure that the hygiene is top-notch, and that your eggs look and smell normal before using. (Some countries you can buy pasturized eggs, which I've read can be difficult to whip the whites off, but anything to feel safer.)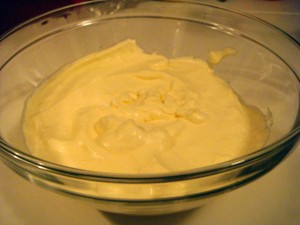 The Lemon Mousse can also be made without cream.

Then you use:

3 eggs, separate yolks and whites

1 dl granulated sugar

the juice from a whole lemon

the zest from half a lemon

and 3 sheets of loosened gelatin.

And omit step 7 from the instructions above.