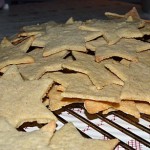 For my work computer, I tend to use Chocolate & Zucchini's delicious-looking monthly desktop calendars. I get tons of nice comments on them from co-workers who stop by, and they're absolutely droolworthy. I get in a better mood just by looking at them.
When I noticed that the December wallpaper featured some pretty cookies, I immediately bookmarked the recipe – and vowed that I would be making them.
Unfortunately, they rather fell a victim to the Norwegian butter shortage, as I only had 100 g of real butter left, and the recipe calls for  280 g. I substituted with margarine. (My local stores have been empty of real butter for about a month now.)
I do think that affected the flavor of the cookie. Also, it wasn't as sweet as I thought it would be, and at one point I considered using royal icing to decorate my stars, however, the flavor as it was grew on me.
I also had some co-workers over, and served these, along with the rest of this year's production of Christmas cookies.
I am not wrong when I say that these disappeared the quickest from the serving plate, and I had added a good pile of them.
I would definitely consider making this again, but I might halve the recipe as it yields quite a lot. Especially as I like to try out making loads of different cookies for Christmas.