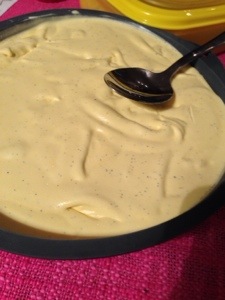 For New Year's Eve 2013 we had planned on making a luscious chocolate pudding dump cake and pairing it with vanilla ice cream. The vanilla ice cream got made, but when the time came to make the chocolate pudding dump cake, a couple of hours before midnight, we were all so full that we couldn't be bothered.
The ice cream worked well alone.
It was the perfect food-end to 2013. Simple, great taste.
The recipe is David Lebovitz'. It can be found here.
The two changes I made was:
I didn't let it cool overnight. (I ran out of time.) Instead I popped it in the freezer to chill properly for 10 minutes before freezing it in the ice cream machine. (Worked fine.)
Added two pods of vanilla beans instead of just one. (Well, it was New Year's Eve. Also, I was moving the next day, and wanted to spend what I could.)