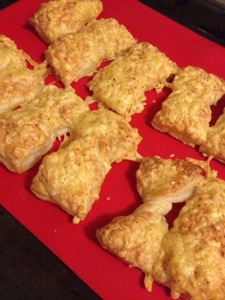 The first part of our New Year's Eve menu were these cheesy bits from The French revolution. They're really dead easy – puff pastry, shredded cheese (we went for Jarlsberg), and a bit of spice.
Add the spice and the shredded cheese on top of the puff pastry.
Bake them up according to the instructions for the puff pastry, and serve.
It was tasty, and we ate the whole batch. But we all thought it missed *something*.
Maybe a bit of ham. Or a bit of tomato sauce.
Or *something*.
Maybe we're philistines.
It was a rather nifty and quick appetizer though.