The Mac + Cheese Cookbook: 50 Simple Recipes from Homeroom, America's Favorite Mac and Cheese Restaurant by Allison Arevalo
All the recipes in the book looked like they'd taste amazing. (Especially at this time of year, when all you want is something nice and warm and gooey and cheesy… I'm sorry, what was the topic again?)
I tried out the classic Mac & Cheese recipe from this book, and was generally very happy with the result. I felt that it would have been much easier for me as a home cook, who generally isn't making béchamel sauce by the vat all the time, or making Mac & Cheese for dinner every day – if they would have included the recipe for the béchamel (or as they call it Mac Sauce) – in each of the recipes instead of having it stand alone. As it were, it ended up being a whole lot of turning the pages back and forth for me, and it would have been easier to make the recipe if all the parts were on the same page.
Furthermore, it is rather hellish on dishes as the amount of pots used is rather high. I actually ended up reusing my pasta pot (left the pasta in the sieve I used to drain it) for part of it, since I was doing the dishes by hand.
But the result was amazing, and I might end up trying out some of the other recipes from the book as well.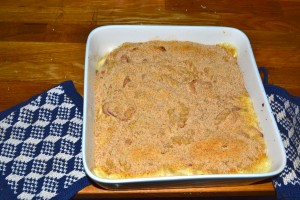 Ingredients
225 g macaroni, penne or other small pasta shapes.
700 ml milk
8 tbsp flour
110 g butter
1 tsp salt
125 g shredded sharp Cheddar cheese
125 g shredded Pecorino Romano or Parmasan
100 g bacon cut into small pieces.
How to…
1. Boil the pasta in lightly salted water, according to the manufacturer's instructions. When it is done, take it off the heat, drain the water and set aside.
2. In another kettle, warm the milk until it is bubbling.  Set aside.
3. At the same time, melt the butter in another pot. When it has melted, add the flour and whisk together. It should become light brown, but not burn. Set aside.
4. Pour the hot milk gradually into the flour/butter pot while whisking.
5. Put the pot back on the stove to heat on medium heat, while stirring. It will now start to thicken. When it can pass the spoon test, it is ready. Add the salt.
6. Add the cheese to the sauce. Mix well until it has fully incorporated into the sauce. (Few people enjoy lumps of cold cheese in a Mac & Cheese.)
7. Add the pasta. Mix well so the sauce covers everything, and the pasta is warm – approximately 5 minutes.
8. Ready to eat.
You can also add broccoli, peas, or cooked bacon when adding the pasta, for a bit of variation. It is also possible, if you feel like it, to transfer the mac & cheese to an ovenproof form, sprinkle some breadcrumbs on top and cook in the oven for 200 degrees for 10-15 minutes, until the topping is crispy.