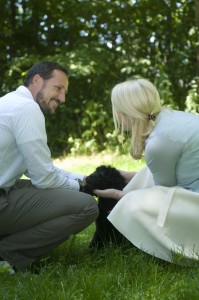 After much speculations in the press around the performing artists and the security cost, The Palace reveals details around Crown Prince Haakon's birthday celebrations.
Since he is a huge fan of music, Crown Princess Mette-Marit has set the celebrations up so that there will be  a music festival at Skaugum for two days. The guests as well as the Crown Prince and Crown Princess will mostly be sleeping outdoors in tents and sleeping bags – like at an ordinary festival.
Some royals will be sleeping indoors, but it seems like the majority, if not all of them, will stay at Skaugum – reducing the need for security elsewhere drastically. The security for it all is estimated to come to 3.7 million NOK – a shift down from the 20 million NOK that Finansavisen reported.
There have been talk in Svensk Damtidning (who has it from Se & Hør's front page, a reputable source…) that it will be a hippie party.
"It's not a themed party the Crown Princess has invited to, but a music festival." – palace spokesperson
They aren't revealing details on the line-up yet, as the musical acts are the birthday gifts and they want the revealing point for the Crown Prince to be when the acts open – not a week before in the press.
But the spokesperson can confirm some things. "It is not true that Coldplay is giving a performance, and if you hear that world stars like Madonna, David Bowie or the Beatles will come – that's not true either."