Ginger ice cream? I wonder if I've gone mad. But I found a recipe, and wanted to give it a go. Instead of the original recipe I found, which was in Norwegian, I decided to go with one by Emeril Lagasse.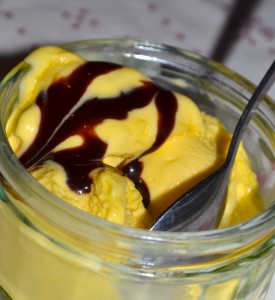 The ice cream is intensely rich, so a small bowl (or in this case, I've re-used the Gü pots for it) really goes a long way. The ginger flavour is subtle, and the ice cream silky smooth.
I've halved the original recipe, and translated the ingredients to metric below.
Ingredients
375 ml heavy cream
125 ml whole milk
32 g grated fresh ginger
Pinch of salt
4 egg yolks
175 g sugar
How-to
1. Combine the cream, milk, ginger, and salt in a saucepan over medium heat and simmer for 10 minutes.
2. Combine the egg yolks and sugar in a medium sized bowl. Mix together until pale yellow and slightly bubbly. I used my mixer for this, though one can well do it by hand.
3. Add a small portion of the hot cream mixture into the egg and sugar mix and combine well. Keep the rest of the cream mixture in the pan on the stove top.
4. Add the egg mixture to the hot cream mixture and cook over low/medium heat, stirring constantly to prevent sticking, until it has thickened to a custard.
5. To get rid of the grated ginger, strain the mixture through a fine mesh strainer into a large clean bowl. Ensure that you press with a spoon to get as much of the custard through the strainer as possible.
6. Cover tightly and place in the refrigerator until well chilled. (The original recipe recommends 3 hours of chilling, but since this is half the size of that, you can easily go with an hour – the point is that it should be good and cold.)
7. Add the mixture to the ice cream machine and freeze according to the instructions of the machine, and freeze in a container until it is ready to be eaten. (If it makes it that far.)
If you don't have an ice cream maker – freeze directly in an airtight container after chilling it a bit first, but make sure you stir the mixture once every 15-30 minutes or so for the first three hours (at least) to prevent icicles in the end result.