For years, I searched for the jam I had when I was on a language course in Vichy and staying in a private lodging. My French was not to the point where I could easily translate the fruit names, and my memory in the last four months of high school, was dedicated to remembering stuff for exams, not French-named jams. It was sort of bland in colour, but tart and sweet in taste, and it was perfect on toast for breakfast.
Anyway, I've tried several different jams that have looked similar to the one I remember, but all of them have fallen short. Until I tried Bonne Maman's rhubarb jam. Now, that's the stuff memories are made of – it was the rhubarb jam.
I found some rhubarb in the shop the other day. I didn't know what I wanted to do with it, but for the majority of the year it is such a rarity around here that I bought it anyway.
(If anything else failed, I could always just dip the stalks in sugar and eat them that way.)
I didn't want to spend time on making jam, when I do like the Bonne Maman one – but hot rhubarb crumble sounded alright for a dreary, rainy July afternoon.
I went for this recipe from BBC GoodFood (without the port, and with half the amount of walnuts.)
I did not use a big enough baking dish, so the mixture did overrun in the oven – and the crumble texture ended up being too soggy  for my taste.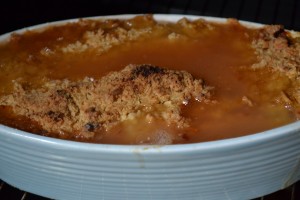 I would probably make this again, though, if I ever find rhubarb again, because the sweet and tart rhubarb filling was fantastic.
Especially with ice cream.