Last summer, when I was in Paris with my sister, we took the train to Versailles. Although the sheer magnitude of the palace, such as the mirrors and chandeliers in the picture below, is undeniable, there were something else that also caught my attention.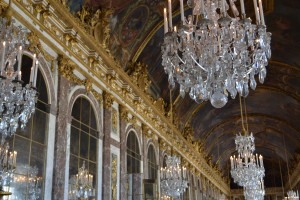 Like my 90 year old grandmother, I'm a chocoholic. There is an Angelina there, and we basically went fairly crazy with the sweets there. But we also had the hot chocolate.
And it felt like drinking liquid chocolate bars.
When I later discovered that there were bottles of Angelina chocolate for sale in a grocery store in Paris, I picked one up.
It's taken me until today to actually crack it open at home, for various reasons.
It tasted good, but I suspect part of the allure of it before was drinking it in Versailles, and sharing with my sister.