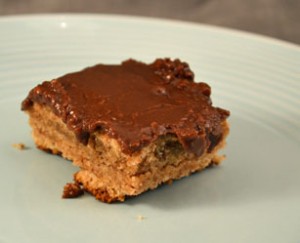 To be frank – this cake was only made because I had a carton of buttermilk that was about to expire. I know that expiration date on buttermilk is not a firm date – the milk is fermented after all – but it was the kick I needed to make this. It is easy, quick and freezes quite well.
Unlike a lot of other cakes, I think that this doesn't taste as good out of the oven, but the moistness of the cake makes it perfect for eating the next day – or freezing and then eating.
The original recipe comes from the amazing Norwegian website, Det Søte Liv.
Ingredients for the cake
250 g butter, melted and cooled.
800 g sugar
800 g all-purpose flour
2 tsp vanilla extract
8 tsp cinnamon
4 tsp baking soda
1 liter buttermilk/fermented milk product
 Mix the dry ingredients together in a mixing bowl.
Set the oven to 200 degrees
Add the butter, buttermilk and vanilla extract.
Combine well, until the batter is smooth and without lumps.
Pour the batter into a sheet-pan (30×40 cm), covered in baking/parchment paper. Make sure it is fairly even.
Bake for approximately 30 minutes.
Cool the cake in the pan.
Frosting
100 g butter, melted and cooled.
500 g powdered sugar
3-4 tbsp cocoa
4 tsp vanilla extract
8 tbsp milk
Add all the ingredients together and mix until smooth.
Pour over the cake once it is cool.
Let the frosting cool before cutting (unless you want the jagged little edges that I have.)
Freezes well.