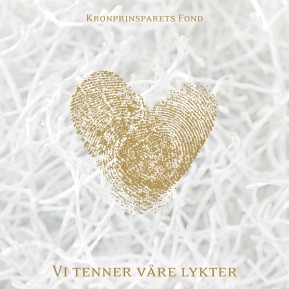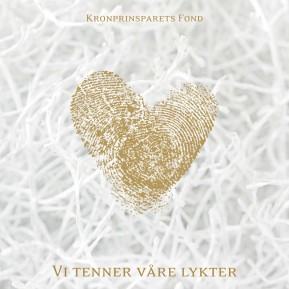 When I played in the brass band, we had a conductor from the North of Norway. He relished in us playing a northern Norwegian Christmas psalm, in the south of Norway.
I can't recall ever hearing it played – and, quite honestly, the fact that it was on this CD was one of the reasons for why I picked it up. (The other one was that I also loved Mette-Marit's previous CD of psalms).
Essentially, the Norwegian Crown Prince & Crown Princess has released a compilation of partly Christmas songs and partly new songs performed by Norwegian artists.

The CD starts with Ingrid Olava's Å Kom Nå med Frihet. (Oh, come all ye faithful). Quite beautiful, and I love that they've used it in Norwegian instead of in English.
Moddi continues with Nordnorsk julesalme (Northern Norwegian Christmas psalm) and I would say that it quite follows up on the memories of playing the song.
Katzenjammer with Vi tenner våre lykter is quite nice. It's the title track, and one of those songs that have started to become associated with Christmas due to its origin (the advent calendar on television), and not necessarily for its Christmas theme.
Thomas Dybdahl's Før Morgengry is one of those that I don't feel is very Christmassy, but I might feel different about it for a different season, so I can imagine it growing on me.
Samsaya's Tenke på en venn is in the same category as above. Not very Christmassy, and not very interesting, in my opinion.
Stein Torleif Bjella's Undervurder aldri ein lykkeleg mann (Never underestimate a happy man)… I think the best thing is the title. The text is also quite good, but like the two previous… I have problems identifying why it is on a Christmas album.
Gunnhild Sundli's Mitt hjerte alltid banker brings us back to Christmas. My problem with this one is personal – they've chosen to go quite folk-music in the arrangement, and her voice sounds quite grating to me because of that. I am not a huge fan of the traditional folk-arrangements so this is a fail for me because of that. But it might work better for someone else's taste.
Vinni's Mørkeredd is actually a rap song on a Christmas album. And even though it is not a Christmas song, I rather like it and can well imagine listening to this over and over.
Gjermund Larsen plays a tune on a fiddle. Interesting enough.
Ida Jenshus sings Det du aldri sa. Quite beautiful and peaceful.
The final track is Marit Larsen singing Her kommer dine arme små with the Garness sisters . Quite a traditional Christmas carol.
I declared Mette-Marit's previous CD "very serene, and just right for when you want to turn off the world outside," and I definitely think this has the same feel. It's a CD that I would have as background music at a dinner party, quiet and calm for most part.
I wasn't crazy about all of it, but overall I enjoyed the music on it. The proceeds of the CD goes to Haakon and Mette-Marit's Humanitarian foundation.