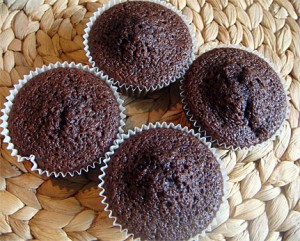 These are my mother's chocolate cupcakes. Yummy and chocolatey, and the custard filling makes for a nice surprise inside.
In my opinion, they're also exceptional when eaten slightly frozen – when the custard is ice-cold and the chocolate is deliciously chocolatey.  I've actually frozen almost all of the cupcakes from this batch – it stops me from eating all of them at once, and increases the odds that there will be something around if I get unannounced visitors.
Thick vanilla custard cream is available in stores in Norway, so there is no recipe here. If you're making that as well, the consistency should be somewhat similar in consistency to a Crème pâtissière filling.
Ingredients

2 eggs
3 dl sugar

0.75 dl dark cocoa powder
1/2 ts baking soda
3 dl flour

0.75 dl cold coffee (Make sure you have some on in time for it to get cold.)
0.75 dl buttermilk
ca 125 g melted butter
2 tsp vanilla extract

Thick vanilla custard. (Optional)

1. Preheat the oven to 175 degrees celcius.

2. Beat eggs and sugar together fairly well.

3. Add the dry ingredients. Mix.

4. Add the wet ingredients. Mix well.

5. Add about a tablespoon of the mixture to each of the cupcake liners. (Depending on the size of them – a tablespoon works well for the moderately sized cupcake liner – you want a third of the liner filled with batter. )

6. If using the custard. Use about a teaspoon of custard on top of the batter-filled forms.

7. Bake in the oven for about 15 minutes.