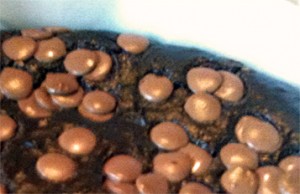 Every now and then, I need an easy thing to throw together for unexpected visitors.
This time, it was a friend of mine who is getting her PHD in Vienna, who is home for a brief time this summer. I had been offered dinner at my parents before she was due to arrive, and so I had about 40 minutes to get this thing going.
I also made it for the Eurovision Song Contest party I held earlier this year – sometimes you need the chocolate to get a sugar high to make it through the evening… 😉
It is about the simplest thing ever, and getting the batter together takes about five minutes.
I first saw it on Eat, Live, Run, and have made it a couple of times since then.
Chocolate Pudding Dump Cake

Ingredients

1 box of chocolate cake mix.

1 package of chocolate pudding mix (If you live in a country where these come in different sizes, you want the small one. If not, the standard works.)

About 3 1/2 dl milk (Non-fat works quite well, though trying for the healthy angle here is a bit of a lost cause…)

Chocolate buttons of your choice to decorate with. Can be omitted if you don't have them.

NB! You don't need any other ingredients than the ones listed above. Not even the extra ingredients listed on the cake mix box.

How to make this cake. 

1. Preheat the oven to 170 degrees celsius

2. Combine the chocolate pudding mix with the milk and stir until all the lumps are out.

3. Add in the cake mix. Stir until the lumps are out. The batter should be fairly thick.

4. Put the batter into a 30X22 cm pan. (Either greased or lined with waxed paper)

5. Divide the chocolate buttons fairly evenly on the top of the cake.

6. Bake for about 30 minutes, or longer if needed.

The cake will be dense, and moist, and deliciously chocolately.