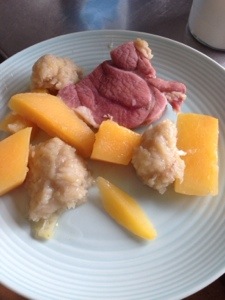 So, potato balls. How about them? Every district in Norway seem to have their own variation of these, including the name.  And there are different condiments and drinks according to where you are in the country. Even to the point where someone wrote and published a book about it.
My Dad's cousins in Chicago (their parents emigrated from Norway before WWII before they were born) and their families eat it for May 17 celebrations. Their version has been bastardised by the American palate- and they have taken to adding cornflakes to it for additional texture.
My grandmother started making these for us when I was younger. It took me a bit of time to warm up to them, but my youngest sister would eat four for dinner, four for breakfast the next day and four for lunch, until there were no more.
Since my grandmother is in the nursing home, we dug out her recipe for making it.