Happiness – when I want to smile all the time and do random, crazy things, when I'm happily content without the huge outwards gestures or just when all is right in my world.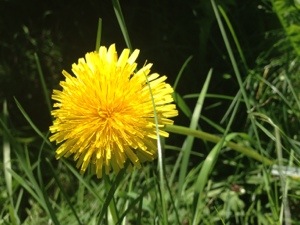 It does not take much to make me happy. Sunshine through my window. Dandelions (well, before they turn to seeders), and other spring flowers. A new book by a favourite author. A new episode from a TV-show I follow. Getting in to the university I wanted. Getting the job I applied for. Hugs from family members or friends. Hugs from random patrons at my library (though, for a Norwegian, that's really stepping over the personal space line.)
The hammock I got for my birthday one year from my sister: putting it up between the apple tree and the plum tree in the garden. Going back and forth and enjoying the subtle sunshine through the leaves whilst reading a book.
A good morning or hello from a random stranger that just happens to get his mug of coffee in the canteen at work the same time I prepare my porridge in the microwave there, almost daily. It makes me, in turn, smile when I'm greeting others, paying the happiness forward.
"Let us be grateful to the people who make us happy; they are the charming gardeners who make our souls blossom." – Proust.
I'm not perky happy. I'm not happy all the time. I do have a tendency to draw into myself, and focus on my worries. Being aware of it, means that I can try to mitigate it at times.
Not being happy all the time,  means that when I do stop up and enjoy the sunshine, I really can appreciate being happy.