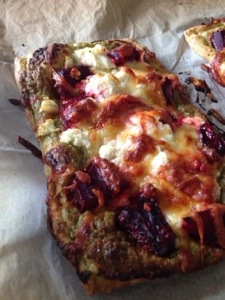 I have been on a beet kick lately (thumb cutting aside). I guess it is because I really love the flavour of it, and for once I found it in store (ergo, I had to buy).
But once I had the bag of beets in-house, I had to figure out what to do with it all. I made chips. I juiced them (with pears, carrots, ginger and lemon juice) for breakfast twice in a row.
And then came further experiments. For some reason, I really had a craving for beets, feta cheese and pesto together.
The picture here doesn't look all that appetizing – but this was yummy to eat. Sort of like a pizza, only with pesto and beets and feta cheese… oh, and store-bought puff pastry.
I haven't got the exact amount for the pesto and cheeses because it was mostly a case of throwing it on.
This is a bit time-consuming in that I roasted the beets first. But that was mostly in the oven, with little work from me.
Continue reading "Beet, feta and pesto pie"